Since its premiere in 2011, Cynthia Cidre's reboot of Dallas quietly made history, bringing a strong Latino cast and continuing presence into a previous white-on-white Texas fantasy. Now TNT has pulled the plug.
When the original Dallas appeared back in 1978, it was a very white show. It attempted, over and over again, to play out complicated night-time soap opera plots in a rich man's fantasy version of the oil business (pronounced 'ohl bidness') in then-contemporary Texas, but it was like no Texas we had ever seen at the time. There wasn't a brown or black face visible on a regular basis; (at least not above the level of housekeeper, where we caught fleeting glimpses of Latina Roseanna Christiansen as Teresa the Maid, pouring coffee for the Ewing's), but we admit it: there was a lot of fun to be had was in watching diabolical J.R. Ewing (the legendary Larry Hagman) run his games on his hapless children and business rivals.
The guilty pleasure ended in 1991 after fourteen glorious seasons of schmaltz, and it was a long time before they re-opened the gates of South Fork. And when they did, something was distinctly different: Latinos had moved in. The self-deprecating maid was a maid no longer–Marlene Forte as Carmen Ramos ran that place now, and even more important, her ridiculously hot daughter Elena, played by Jordana Brewster,was a major player, using her brains and her sexuality to wreak havoc among the Ewing's. Even one of the new Ewing's, Christopher's wife Pamela, was played by Julie Gonzalo,a Latina of Argentinean decent. But of the greatest significance: the relaunch of Dallas was the work of a Latina writer and show-runner, Cynthia Cidre,who effortlessly added multicultural elements, and particularly Latinos, into the all-white cast and concept. (And the regulars were only the beginning; we saw Latinos starring in arcs and in single episodes as well. The list included. Juan Pablo di Pace, Kuno Becker, Alex Fernandez, Antonio Jaramillo, Carlos Bernard, Leonor Varela, Castulo Vera, and many many others.)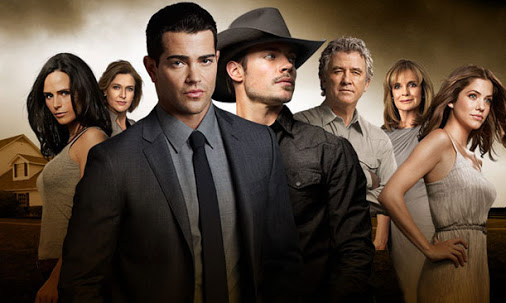 The ratings were solid if unamazing for a long time, and it's true that the thunder of Devious Maids and the death of Larry Hagman took a lot of wind out of South Fork's sails. Still, Dallas was a quiet little miracle: a show with Latinos in front and behind the camera, in a wide range of impressive and non-stereotypical roles. As a home for many Latino artists and simply as a guilty pleasure for us all, it will be missed.
Dallas was already firmly in place last year, when we saw five more series arrive on network and cable that feature Latinos as Latinos in starring roles: Welcome to the Family, The Fosters, The Bridge, Devious Maids, and St. George (not to mention the endless number of shows with Latinos as Latinos in regular supporting roles, arcs, and single episodes). Of the six–including Dallas–three are now gone; meanwhile, The Fosters and Devious Maids seem to be going strong, The Bridge has completed another summer season, while two new series starring Latinos will be added this month, The CW's Jane the Virgin and ABC's Cristela (which just premiered to solid first-episode ratings). That's still a strong showing, with more to come, but Dallas deserves some credit: it was at the leading edge of the new wave, and we'll miss it.