After a whole lot of ballyhoo, the 'continuation' (as opposed to reboot or remake) of Dallas, the iconic "bad family" soap, is returning to TNT…and unlike its first go-round, this is well-populated by Latinos in front and behind the camera.
First and foremost is the presence of Cubana writer Cynthia Cidre as show runner. Cidre, the creative force behind the short-lived Latino family-soap Cane, is bringing strong women and Latino characters into the forefront from her quietly powerful positions behind the scenes.  It's evident even before the premiere: where the only visible Latino character in the original show was the silent and obedient housekeeper, now that housekeeper–played by the formidable Marlene Forte–runs the damn house. And even more important, her incredibly beautiful daughter, played by Latina Jordana Brewster, is the central love interest for both the young Ewing boys–a new character, clearly and proudly Latina. Chilean born Leonor Varela, plays Marta del Sol. Meanwhile one of the very-very Anglo character happens to be played by a Latina, Julie Gonzalo, born in Argentina. And Carlos Bernard plays a Venezuelan businessman named, Vicente Cano.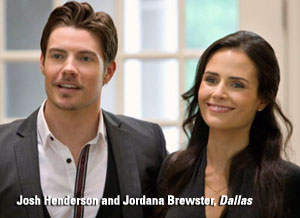 TNT clearly thinks they have a winner here; they're pushing it hard, with lots of online and on-air promotions, including some new promotional footage in the last few days. Here is one of those promo's featuring Jordana and giving us a glimpse of what looks like a pretty classy and creative return to South Fork.
We'll all get a chance to see it first hand next month. Dallas premieres on TNT on June 13. Check out the trailer here.