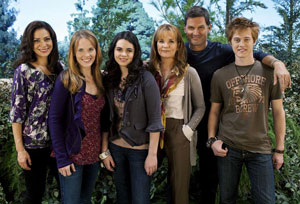 The publisher and editor here at Se Fija! are professionals. We don't play favorites. Heck, no.
But don't you just love Constance Marie?
There's something about her energy, her spirit, her quick smile. You really just have to like the screen persona of this veteran actress—someone  we've seen far more often than we realize—no matter what role she's playing. And folks who have known her since the early, pre-Lopez days say she's just the same sweet smart woman now that she was (mumble mumble) years ago.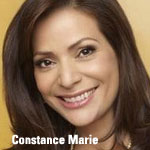 Being eternally youthful doesn't hurt, either. It's actually hard to believe that it's been almost 25 years since she appeared in the short-lived TV version of Dirty Dancing, or more than a decade since Early Edition with that guy from Friday Night Lights. And it's been almost five years since her big breakout role at George Lopez' wife in his ABC sitcom.
And here she is again, bowed but unbroken as the mother of a deaf girl that she thought was her biological daughter in ABC Family's Separated At Birth. This isn't an easy gig: no only is it emotionally charged, not only is she working with heavyweights like Lea Thompson and Marlee Matlin, but she also had to learn American Sign Language, and use it in many, many scenes as if she'd been signing for years (one of the many twists in the plot: Zap2It, the Tribune Corp's pretty decent entertainment news site, has just posted a nice Q&A with Constance—you can read it here. And for even more fun, take a look at Constance's own blog, http://constancemarie.net/, where she shows her proud-mommy side, or her active Facebook page at http://www.facebook.com/pages/Constance-Marie/62690293388.
We're dry-eyed, cynical professionals here at Se Fija!. Seriously. But if we weren't, we'd think Constance Marie was one of the coolest people in town.