Chavela is my second favorite documentary of the year, one that is long overdue just like Dolores, which is about civil rights and union organizer, Dolores Huerta.
I had the pleasure to talk to one of the co-directors of the film, Daresha Kyi, who I could of spoken to for hours about Chavela Vargas, a Mexican singer whose international fame peaked after a triumphant return to the stage at the age of 71.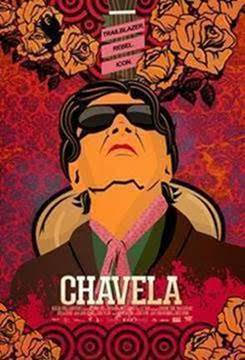 Music Box Films is proud to present the U.S. theatrical release of Chavela, directed by Catherine Gund and Daresha Kyi. The film has garnered many awards: the Audience Award and Grand Jury Prize at Outfest (Los Angeles LGBTQ Film Festival), the Audience Award at Frameline (San Francisco International LGBTQ Film Festival), and Official Selection at 2017 Berlin International Film Festival, HotDocs, Seattle International Film Festival, OUTFEST.
For those of you who aren't familiar with Chavela Vargas talent and life, here's a bit about her and what you'll see in the documentary.
She was born in Costa Rica in 1919, Chavela ran away to Mexico City as a teenager to sing in the streets. By the 1950s she had become a darling of the city's thriving bohemian club scene, delivering her performances with a raw passion and unique voice. Challenging mainstream Mexican morals by dressing in pants, drinking tequila, and smoking cigars while singing love songs intended for men to woo women and refusing to change the pronouns, Chavela was a bold, rebellious, sexual pioneer who defied gender and sexuality stereotypes at a time when being "out" was often dangerous.
Chavela centers around a 1992 interview—the singer's first public appearance after 12 hard years lost to alcoholism and heartbreak. Her amazing comeback began when Spanish filmmaker Pedro Almodóvar, who had featured her music in many of his films, played an instrumental role in elevating her career to international acclaim.
Chavela (Isabel Vargas Lizano) passed away in 2012 at the age of 93.
Chavela opened at Film Forum in New York on Wednesday, October 4th and the Nuart in Los Angeles on October 6. A national release will follow.
Photos: ©2017 Angela María Ortíz S.