If you didn't see the original Blade Runner, you should, but you don't have to, to see Blade Runner 2049—it's a film that stands perfectly on its own.
Director Denis Villeneuve is very true to the pace of the original Blade Runner. It starts very slow just like the original and you want it to move on. Once it does, it keeps getting more and more interesting—a little blurry at times following the storyline but this film has so much going for it in action and visuals that you keep watching. And just like the first film for me, I'll have to watch it again to absorb more of it. The sound was intense in the theater I saw the film in.
We attended the press conference and have the audio here for you to enjoy! Listen to what Harrison Ford has to say about the original film and this new one.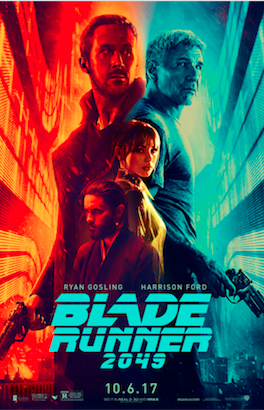 The plot: Thirty years after the events of the first film, a new blade runner, LAPD Officer K (Ryan Gosling), unearths a long-buried secret that has the potential to plunge what's left of society into chaos. K's discovery leads him on a quest to find Rick Deckard (Harrison Ford), a former LAPD blade runner who has been missing for 30 years.
From executive producer Ridley Scott and starring Ana De Armas, MacKenzie Davis, Sylvia Hoeks, Lennie James, Carla Juri, Robin Wright, Dave Bautista, and Jared Leto.
In 3D and 2D in select theaters and IMAX on October 6.
Photos: ©2017 Angela María Ortíz S.