*Contest Closed. Thank you for participating, stay tuned for our next GIVEAWAY!
With the release of the inspiring film starring Charlie Sheen and Whoopi Goldberg titled 9/11, based on the original play, The Elevator that centers on the events of September 11, 2001. We have a special GIVEAWAY going on.
The 16th anniversary of 9/11 is here and no matter who you are or where you were, that moment and the aftermath is indelibly etched in everyone's mind.
The film 9/11 is based on a true story and chronicles the lives of five average, everyday people who find themselves trapped in an elevator during the events of 9/11 in the World Trade Center.
I still remember that morning vividly, being on the west coast I was just waking up to the morning news when I realized the newscaster sounded panic and I remember saying, something is wrong…I jumped out of bed and ran to turn the television on (KTLA morning news) just when the second plane was going through the second tower. I froze.
Our son was 6 at the time and all we could do is hold each other and stay close together all day. We checked on family and friends in New York—It was a trying few days.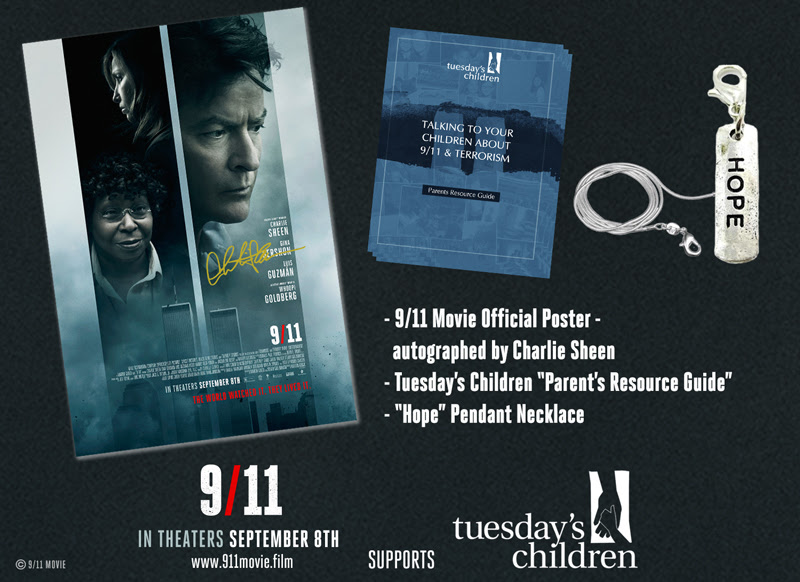 The Prize Pack Contains:
• 1 – 9/11 poster Hand Signed Autographed by star Charlie Sheen
• 1 – "Hope" Pendant with necklace
• 1 – Guide to Talking To Your Children About 9/11 thanks to Tuesday's Children
Would you like to win a Remember911 Gift Pack? Then just click here to send us an email with your name, address (no P.O. Box). And that's all!
We'll draw the winners at 6P (PT), Tuesday, September 12!
9/11 is in theaters now and features an all-star cast including Luis Guzman (The Taking of Pelham 1,2,3), Gina Gershon (Showgirls), Wood Harris (Justified), Jacqueline Bisset (Dancing on the Edge (BBC), Olga Fonda (The Vampire Diaries), and Bruce Davison (X-Men). Learn more about the film by visiting their website here.
Check out 9/11 Movie Blog App:
• Read and share the 9/11 fact cards, provided by Tuesday's Children
• Watch behind-the-scenes interviews with Charlie Sheen, Gina Gershon, and Luis Guzman.