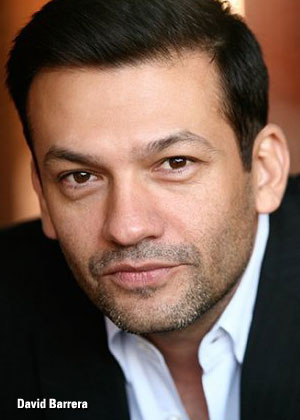 David Barrera is one of those handsome Latino actors who can look friendly, fatherly, or absolutely dangerous, depending on the role or the angle. But that adaptability has kept him busy for years, playing everything from criminals to criminal attorneys to cops on everything from The Mentalist to The Wizard of Waverly Place. He's even played a superhero in the terrific web series The Trainee, that we talked about a while back, right here. You can see his latest work on an upcoming episode of Fairly Legal with Sarah Shahi (and we've written about Sarah, too, right here.
SeFija! got a chance to talk with David recently. We started by asking him about his appearance on Legal. I play "Eddie Salinas" a business owner and landlord on the brink of losing his mother's apartment building to the bank, an apartment building that has been in the family for three generations. The legal team tries to cut a deal between me and the bank. And I just finished shooting a pilot called The Asset for Fox. I was a guest star, and I had a great time working with Ali Larter again. She killed me on Heroes. We'll get a chance to see his work this fall–if The Asset is one of the pilots that Fox picks up (see the complete list of pilots with Latinos in the mix right here.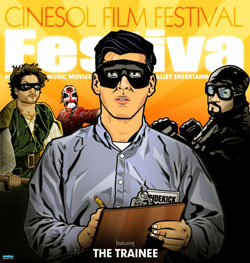 David's also done another season of Southland. "I am officially recurring as Sgt. Jim Lopez," he told us. "I love the people that create it. I got to recur for them (Chris Chulack and John Wells) on another series, Smith with Ray Liotta, a couple of years ago. Hopefully next season I will be able to do more episodes. It's such a great show."
He's played a wide range of memorable characters since his first appearance on TV more than fifteen years ago. And even now, he remembers his arc on NYPD Blue, in 1998. "It came early in my career," he said, "and I was honored to be part of those beautiful episodes, where Jimmy Smits' character, Bobby Simone died. It really was television history, and to be included and get to see those episodes being filmed was a real high point and blessing for me." Just as high on his list was his involvement in the legendary HBO miniseries Generation Kill in 2008. "That came later in my career, but it was another great piece of television. We spent about a month on each episode, seven episodes in all. We got to shoot in Africa for the entire time, and the friendships I gained on that shoot will be lifelong ones." The miniseries did extremely well, gathering great ratings and eleven Emmy nominations.
And then there's The Trainee. He and writer Mauro Flores Jr. have put together a hilarious and strangely affectionate send-up of the superhero genre, and David seems to have enjoyed every minute of it. "It's a very funny concept," he said, "and Mauro Flores Jr. is a very talented writer. I am so happy I get to work on it. Mauro and I are from the same area in Texas, The Rio Grande Valley, as is Michael Escamilla (the Macaw), Letty Valladares (Madame Snowblood), Valente Rodriguez (Executive Producer) and Raúl Castillo (the trainee). It's an all Latino project, but no big references are made to that fact. We are just actors playing roles in a funny webseries, as it should be, que no?"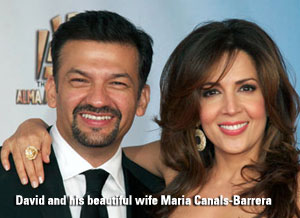 It's a project that's a little hard to describe. "It's a web series where I play a middle aged super hero–yeah, it's a stretch!–called "Shadow Knight", who is looking to replace his rather jaded sidekick, "The Macaw," a "trainee" sidekick. Comedy ensues." And he's known the people on the Trainee project so long; he frankly doesn't remember how he first met them. "It might have been through Raul and Michael," he said. "I feel like I've known him forever. We hit it off immediately, being from the same area and all. He laughs at my jokes, so I like him."
And the reception to The Trainee has been "incredible. Besides the web, it's been to a couple of festivals and people loved the concept. People keep asking how they can be in business with us and our response is the same: give us money! No! Not for the series, just give us MONEY!" Right now, their plans are "to promote the series, try to raise enough money to keep shooting episodes and eventually employ more people."
David Barrera is a busy man; he's been working almost continually for a decade and a half. What drives him to be so focused? "My drive comes from loving what I do. I absolutely love being on a set, working on a project. I love talking about the character and what makes him tick and how that fits in the story as a whole. My background is theater and that was a great influence on my take of why I do what I do. I really miss the theater a lot. There is nothing like performing to live audience. It's incredible."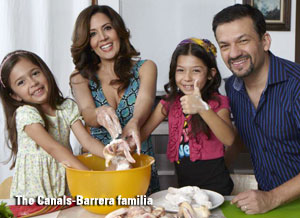 So he has plenty on his plate, even more planned for the short and medium…but where does David Barrera see himself in ten years? "That is a hard one," he confesses, "because I really love where I am now. I stay busy enough to where I'm filled artistically and don't get antsy or bored, yet I have enough time to devote to my family. Family is very important to me. Growing a deeper relationship with my wife is something I love to work on daily–and she makes it easy." Spending time and teaching his beautiful daughters is just as important. "It's a responsibility I take very seriously. They are such blessings; they deserve every bit of time I can give to them." As for the future: "I guess I would want what I've always wanted: the opportunity to work on amazing and challenging scripts and the incredible gift of working with talented and selfless artists. That sounds pretty good to me! Verdad?
Photo of David and Maria Barrera: ©2011 Angela María Ortíz S.
Photos: Courtesy of David Barrera