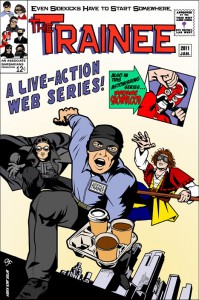 If you love comic books—this live action webseries might have something for you. The series premieres, Monday, October 31 at 9A (PT) and 11(CT) on a computer near you. They are three episodes, and they'll be released every two weeks.
It stars; Raúl Castillo (The Trainee), Michael Ray Escamilla (The Macaw), David Barrera (Shadow Knight), and new comer Letty Valladares (Lucy Ramirez). And written by Mauro Flores, Jr., executive producer Valente Rodriguez, and directed by Miguel Alvarez.
You can see the trailer here and check out the episodes here. You'll be hearing more about this, stay tune.