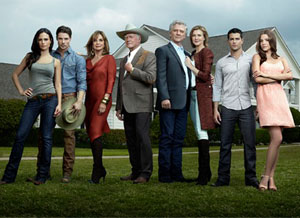 We're not sure if this is such great news; with the possible exception of Battlestar: Galactica, not many of the revivals or reboots of old 70s and 80s TV series (on TV or at the movies) have really been very good. But like it or not, Dallas—complete with some of the original, 'vintage' cast members and a small but hardy contingent of Latinos—has been picked up by TNT for at least ten episodes, and a chunk of the pilot will be on display during this Monday's season premieres of The Closer and Rizzoli and Isles.
This is particularly great news for writer/show runner Cynthia Cidre…
Cynthia, a Cuban-American who conceived the episodic family drama Cane for CBS a couple of years ago, is the architect of the reboot/sequel. And it's great for Latino stars Jordana Brewster (you loved her in various Fast and Furious movies; you despised her villainy on Chuck for a season or two), Julie Gonzalo (Veronica Mars, Eli Stone), and Marlene Forte (who's been on just about every show in production today, especially House of Payne and Crossing Jordan), too.  Both Cidre and Forte (who plays the housekeeper and Jordana's mother) promise a more enlightened approach to Texas and Latinos than the first series presented. In the original, Forte's character was a maid named Teresa, played by Roseanna Christiansen, a character actress of Puerto Rican and Dominican descent (who had been a regular on The Jeffersons before Dallas, and who left show biz for the ministry shortly after the show ended), and was the only Latino who regularly appeared on the series in its eight-year run. It was the classic—some would say stereotypical—"mamasita" role in some ways, but Forte's role is substantially larger and potentially far more fierce, given Forte's power as an actress and her character's role as the mother of a beautiful and trouble-making daughter in Brewster. None of this hot-blooded Latino interaction is new to Cidre, who explored the same territory with Jimmy Smits, Rita Moreno, and many others in the Cuban-Family-Dynasty-Saga Cane.  And TNT bosses were generous with their praise for Cidre in their announcement of the pick-up last week. "It wasn't until we read Cynthia Cidre's outstanding pilot script that we knew we had the foundation for a great new series," they said…"We couldn't be more pleased with how 'Dallas' has come together."
The exact date of the fall premiere has yet to be announced, but the preview begins at 9P on Monday, July11, sprinkled throughout The Closer and Rizzoli and Isles.