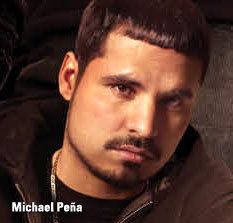 The positive buzz for Brett Ratner's new comedy-heist picture, Tower Heist, is getting stronger and stronger. Not only did Universal try (and fail) to make it the centerpiece for a new plan to simultaneously release the film in theaters and on Video On Demand, but it continues to pump out new (and admittedly pretty funny) trailers for the film, even though its premiere is still a couple of weeks away (November 4, actually).
Michael Peña, in his second semi-comedic turn this year—after super-serious appearances in Battle L.A. and The Lincoln Lawyers, and a much lighter role in 30 minutes or Less—is one of the many leading men populating this testosterone-heavy premise, right up there and on the poster with the likes of Ben Stiller, Eddie Murphy, and Matthew Broderick. A little recognition is long overdue for this hard-working young Latino, and maybe—finally!—this is the vehicle. The studio sure seems to think so.
Catch Peña (and those other guys) in this newest trailer here, and circle three weeks from Friday for date night. This could be fun!
http://www.youtube.com/watch?v=gti4_m76gfE