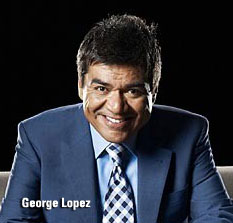 It's been that kind of week: first Desperate Housewives gets a year cut out of its lifespan, and now Lopez Tonight gets cancelled–now, right away, no waiting. Tonight (Thursday 8/11) will be George's last original broadcast (ironically, one of the listed guests: Eva Longoria of the equally ill-treated DH).
So what happened? The most common analysis says it's all a numbers game, and George just wasn't delivering, especially when he moved (voluntarily or not) out of the 11 pm slot and Conan O'Brien's Conan moved in. (At the time, George said repeatedly it was his idea to move to midnight; that he thought Conan would do better at that hour and they'd both benefit from the move. Turns out that may not be the entire story; Conan himself may have insisted that TBS not simply cancel Lopez Tonight–that would look bad for everybody after the Leno-O'Brien debacle at NBC–and instead asked that George be slotted in at midnight to sink or swim. Chance are no one will ever really know if Conan was the guy who saved Lopez from drowning for a year or ultimately pushed his head underwater.)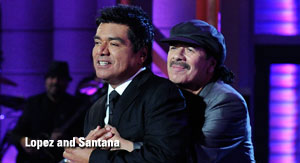 And it's not like this was Lopez' lifelong dream. When George became a talk show host for TBS
just two years back, he was best known for his bad-boy stand-up comedy and his onscreen persona as a family man in the long-running ABC sitcom, George Lopez Show. Still, he drew more than 900,000 viewers a night in the early days of Lopez Tonight–a strong start, especially for a newcomer working way down the dial.
But the numbers didn't get better; in fact, they began to fall fairly quickly. Even in the cable world of lowered expectations, by the time Conan O'Brien came to the net the next year; cancellation rumors for Lopez were already all over the place. Whether it was Conan or the net or Lopez himself that originated the idea of the move to midnight, it was generally seen as a new opportunity–or perhaps a last chance–for George's talk show.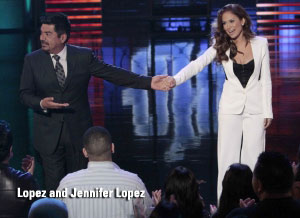 These days, Conan is delivering a solid 700,000 to 1 million sets of eyeballs every night. That's not bad, but it's nowhere close to the 3.5 million (give or take) that Leno and Letterman are delivering, or even the 1.5 million to 1.7 million that the later shows hosted by Craig Ferguson, Jimmy Kimmel, and Jimmy Fallon produce–and not nearly the levels that TBS had hoped for when they picked him up. And the audience that Conan attracts was never a Lopez kind of crowd. Chances are they were wandering off to The Colbert Report or even Adult Swim rather than hanging around for the 'block party' that was closer in spirit to Jimmy Kimmel Live or Jimmy Fallon. Those who did find George at midnight, or hung around from Conan, amounted to something less than half a million sets of eyeballs–a drop-off of 40% or more from Conan's modest-to-begin-with numbers.
It was a marriage that wasn't meant to last, though when the end came it did come with brutal speed. No long goodbye here, maybe TBS simply doesn't trust the sharp-tongued Lopez with too much of a 'lame duck' departure. They certainly didn't give him much of one: one show. Tonight. Then…who knows? They may look to reruns of My Name Is Earl or an entirely different kind of original programming rather than bring yet another talk show to the net.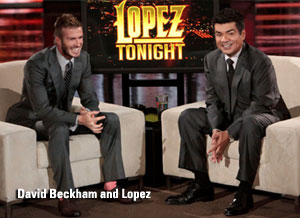 It would be dramatic but probably inaccurate to bring racism into the picture. Though it's true that Lopez' departure leaves the late-night landscape populated only by white men, the daytime talk show field has been dominated by a black woman and a white lesbian for years, What seems more likely is that George Lopez' own personality and the show that was built around it just didn't attract as many regular, dedicated fans of any ethnicity as the other talk shows running around it and against it, and certainly Lopez' own well-publicized personal and family problems didn't make that persona any more attractive. Without the big fan base and even with A+ guests to make up for it, the 'block party' had to end sometime.
Still, Lopez Tonight will be missed by its half a million or more loyal fans and a much larger group that tuned in now and again. For all its faults, it was a showcase for a diverse group of musical talents and performers you don't see all that often. On Lopez, everybody actually seemed to be enjoying themselves. There was remarkably little of the strained 'funny anecdote' repartee and plastic smiles that are all too common on Leno and Letterman, and one has to wonder…if Lopez had followed the similar-in-style Jimmy Kimmel Live or even Jimmy Fallon, farther up the dial where the big numbers play, how would he have done?
We'll never know. The fact is, a few years from now, George Lopez will probably be remembered more for the immortal reruns his ABC sitcom, George Lopez Show, than for his two short years as a talk-show host.
Good night, George.