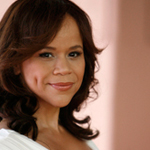 The Lifetime Movie Network makes a lot of melodramas, and frankly most of them aren't very good: overwritten, overacted, underthought. But once in a while something amazing happens…and then you get a movie like Lies in Plain Sight, available July 5 on DVD.
It's not really surprising. You put together an accomplished and intelligent director like Patricia Cardoso (Real Women Have Curves) and equally talented actors like Mexican star Martha Higareda (Street Kings), Lupe Ontiveros (Los Americans, Real Women Have Curves), Rosie Perez (Yo soy Boricua, pa'que tu lo sepas!), Benito Martinez (The Shield, The Dry Land) and Yul Vasquez (Little Fockers, American Gangster) and something good is likely to happen.
This isn't an easy film to watch: teen suicide, sexual assault, disability, revenge, grief. But the work has already been noticed, even from such humble beginnings: Rosie Perez' incredible performance—who knew she had this in her?—has already gained a Gracie Allen Award, an Image Award nomination for  Outstanding Actress in a Television Movie, Mini-Series or Dramatic Special, and a Best Actress/Television nomination from the Imagen Awards (which also offered up nominations in the same category for Higareda and for the movie itself). It's particularly amazing considering Rosie was performing with a serious back injury, against doctor's orders, and still turned in a stunning performance as the mother of the young suicide.
Uncovering little gems like this, so full of Latino commitment and caring, are a joy to find even when the subject matter is sad and disturbing. It premiered last October on LMN, replayed there a few times, and has languished since then…but now it's available on DVD at your local retailer and on DVD (no Instant Viewing or VOD at the moment, however.) Maybe the new awards nominations and the timely release of the video will give it a second life.
Catch a glimpse of this remarkable little film below, on the trailer, then seek it out and let us know what you think. If it reappears on LMN at any point in the future, we'll let you know on What's Worth Watching.