It came as a shock to everyone, when Marc Cherry visited the Desperate Housewives set just a few weeks into the new season's shooting and said, essentially, "We're done; this is our last year." Until that moment, everyone–including the major stars of the series, entering its miraculous eighth year–thought they were solid at least through Year Nine.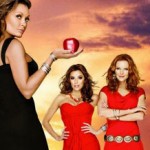 At first, nobody knew what to say. Eva Longoria tweeted, "I am so grateful for what the show has given me! We always knew we wanted to end on top and I thank ABC (TV network) for giving us our victory lap! And a special thanks to (show creator) Marc Cherry who forever changed my life!" And she's declined making any other comment since.
But that fact is, Longoria has used her prominence on the multi-award-winning show to great advantage, and she–probably better than anyone else on the show–is poised to do great things in the months and years to come.
Not that she's been resting on her laurels. Even while DH was getting off the ground back in 2004, she has been working as one of the producers of Hot Tamales Live: Spicy, Hot and Hilarious, a concert video spotlighting Latina stand-up comics. A few years later, she teamed with Pepsico to produce and direct Latinos Living The American Dream and this year ALMA Awards, and just a few weeks ago announced a newly invigorated awards program that will broadcast on NBC (tellingly, not her 'home' network ABC) next month. She was also an executive producer of Shine Global Inc.'s documentary The Harvest, about child migrant farm workers in the U.S., specifically made to support the passage of the Children's Act for Responsible Employment. And she continues to be busy as an actress as well, with last month's premiere of the social comedy Without Men, and her work–along with many other great Latino actors like Andy Garcia and Catalina Sandino Moreno–on the beautiful and dark historical work-in-progress Cristiada.
Then there's the beauty thing. She was a spokeswoman for L'Oreal Cosmetics (among many others) for years, and she's launched a fragrance of her own, EVA by Eva Longoria, that's available in major department stores now. And the food thing: she has two restaurants, Beso (Los Angeles and Vegas), she's been a guest judge on The Next Food Network Star, and her first cookbook, Eva's Kitchen, came out in April.
And Longoria has become a prominent philanthropist as well. She founded Eva's Heroes, a charity which helps developmentally disabled children; she's the national spokesperson for PADRES Contra El Cancer, and she's worked with a wide variety of other non-profits, from OmniPeace to Clothes Off Our Back Foundation to the National Center for Missing and Exploited Children and St. Jude's. She's also part of the national commission looking into the creation of a National Museum of the American Latino. No wonder the Hollywood Reporter named her Philanthropist of the Year.
Clearly, TV cancellations notwithstanding, Eva Longoria is just getting started. Other stars of Desperate Housewives are making jokes about opening a chain of carwashes after the show leaves the air next spring (though in fact it will live on in syndication for years and years, all around the world.) But Eva has so many successful irons in the fire already; we may not even notice that the show is gone at all.
'Cause Eva will certainly still be here.