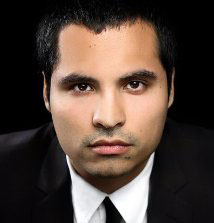 This was supposed to be Michael Peña's year.
This talented, quiet, often intense young actor has been working his way up for years. He started paying his performance dues when he was barely out of his teens, worked slowly and steadily through the late nineties until he had a moderate break as a supporting character in Felicity back in 2000, then continued to get noticed and acknowledged through his work in American Family, ER, and the original movie version of Crash. In fact, he won the ALMA Award for Outstanding Actor in '06 for that one. Next year, he got even more attention for Edward James Olmos' Walkout. He got two ALMA noms that year, for Walkout and World Trade Center. And he worked not only well but steadily thereafter, showing up and doing good work in everything from Seth Rogan's oddly dark Observe and Report to the mixed results of Eastside and Down.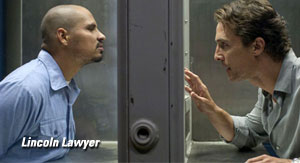 But 2011 was supposed to be it–the sum total of years of climbing that ladder. There wasn't just one film with Peña in the power position, there were three: the much-anticipated comeback film for Matthew McConaughey, The Lincoln Lawyer, the blockbuster SF military epic, Battle: Los Angeles, and then to finish up a nice little turn in a comedy-caper flick with Jesse Eisenberg and others, 30 Minutes or Less.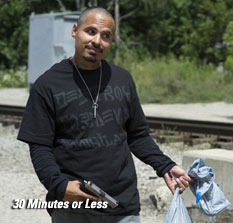 But…something happened. Peña's breakthrough into leading man stardom still hasn't happened.
Lincoln Lawyer barely made a splash, though the critics thought it was pretty damn good. Battle L.A drew some eyeballs and made some money, but was overwhelmed by even bigger blockbusters like Thor and Harry Potter early in the year (and it was hampered by a well-produced by highly derivative script, that seemed to do little but steal key scenes from a dozen other modern-day alien invasion flicks…and fans noticed). So suddenly, Peña's cute little project, like one of those toss-offs Jessica Alba does between 'real movies' seems just as important as the others before it, especially since Peña is demonstrating his comedic skill–something he hasn't done often in the past.
Unfortunately, the part isn't big enough to make a huge impression. Critic reviews haven't been particularly kind to the film, though audiences seem to like it fine. But when they say nice things, they say them about Danny McBride, or Aziz Ansari or Nick Swardson or even Eisenberg…but they're not talking about Peña.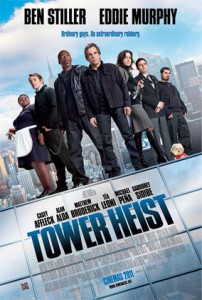 So Peña doesn't become the breakout star of 2011. (It looks as if no one gets that honor this year–it's pretty much same-old, same old). But he's far from done. He has yet another good-sized movie coming out this year: Brett Ratner's Tower Heist, with Ben Stiller and Eddie Murphy–he's even on the poster this time!–and he's lined up equally exciting and high-profile projects for 2012 and 13, including the already much-anticipated period piece with Emma Stone and Ryan Gosling, The Gangster Squad.
So it's not like he's going anywhere. He's just going to keep at it. The fact is, if you're looking for a good Michael Peña piece, you should seek out The Good Doctor or take another look at The Lincoln Lawyer, rather than waste your time on 30 Minutes (unless you're a caper or an Eisenberg fan).
But wait a bit longer. One of these days, Michael Peña's going to be an overnight sensation.
Peña appeared recently on the late, lamented Lopez Tonight show. Click here to see him at his most charming and funniest in a clip from the interview.